Webinar Alert: Critical Infrastructure Cybersecurity Fireside Chat
Tue, 10/19/2021 - 9:34am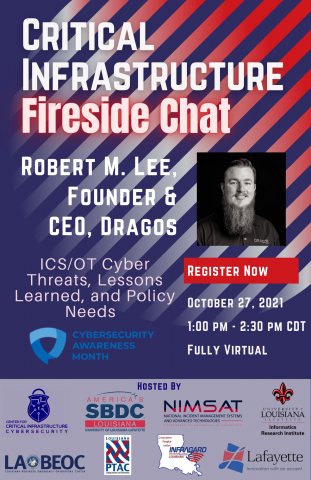 Wednesday, October 27, 2021 1:00 PM to 2:30 PM Central
Location: Online
Register Now: https://www2.lsbdc.org/reg.aspx?mode=event&event=8410139
Please join us for a virtual webinar and a moderated fireside chat (question and answer session) focused on Critical Infrastructure Cybersecurity with Robert M. Lee, Founder and CEO of Dragos, an industrial cyber security firm. Lee is a recognized pioneer in the industrial security incident response and threat intelligence community and built a first-of-its-kind mission identifying and analyzing national threats to industrial infrastructure for the National Security Agency.
Robert has front line experience in the most significant cyber attacks that have taken place in the industrial world and will answer audience questions on where we are, what we can do about it, and what we need for the future on the topic of industrial security.
Please register now for this webinar or feel free to share the email with interested colleagues.
Speaker:
Robert M. Lee
Founder and CEO of Dragos
• Named to Forbes 30 under 30 (2016) list as one of the "brightest entrepreneurs, breakout talents, and change agents" in Enterprise Technology
• Presented at major security conferences such as SANS, BlackHat, DefCon, and RSA and has testified to the Senate's Energy and National Resources Committee
Co-sponsors:
• UL Lafayette – Center for Critical Infrastructure Cybersecurity
• Louisiana Business Emergency Operations Center
• Lafayette Consolidated Government
• UL Lafayette – Small Business Development Center
• The Louisiana Procurement Technical Assistance Center (LA PTAC)
• UL Lafayette – Information Technology
•  InfraGard Louisiana